Puppy Haven is FINALLY selling T-shirts!
The four designs you see below were created for our rescues, to fundraise for their wellness and care. They were designed for women and men. We have them in sizes ranging from adult Small to adult XX Large.
They are available for purchase for $20.
Shirts can be ordered via email to puppyhaven.merch@gmail.com.
Please list which T-shirt(s) you would like, and the size(s).
Once your order has been received, an invoice will be sent to your PAYPAL account, where you must complete the order. If the order is not completed, your shirt will not be reserved.
T-shirts are available for PICK UP ONLY at our adoption events, and will only be held for 2 weeks.
Designs by: Victoria Ross
vikarossdesign@gmail.com
Photography📸: @rgeorgephotography
OUR SPONSORS
We would like to send a HUGE thank you to our sponsors!
Without the businesses listed below, these T-shirts would not exist. Thank you for helping us to initiate our fundraising efforts through sponsorship with Puppy Haven!
Tulsa Wealth Advisors - Raymond James
Levinson Sullivan Dentistry
Physical Therapy of Tulsa
Paws on Pearl
Doc's
Sudbury Transportation Inc.
The Edge Salon
Woodland West Animal Hospital and Pet Resort
The Dog Dish
Have an idea for a dog-related t-shirt and want to sponsor PHR? Email puppyhaven.merch@gmail.com for more information!
I ♥ MY
RESCUE
SPONSORED BY:
Levinson Sullivan Dentistry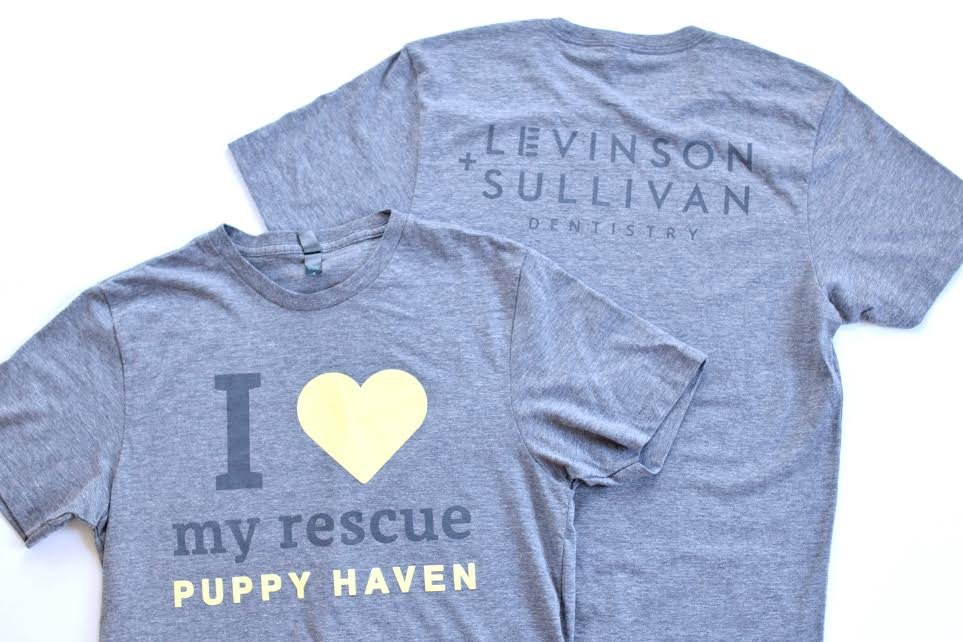 IN DOG BEERS I'VE ONLY HAD ONE
SPONSORED BY:
Physical Therapy of Tulsa, Paws on Pearl, Doc's Wine & Food
So, RECAP:
•       Email puppyhaven.merch@gmail.com with your order
•       Complete PayPal purchase
•       Pick up T-shirt at an upcoming adoption event
•       ROCK IT!
Thank you for your purchase of a Puppy Haven T-shirt.
All proceeds go towards the care and vetting of our rescues! Your purchase today helps save another pup in need tomorrow.