Below, you will find our rescues currently available for adoption!
Meeko is a sweet boy who traveled all the way from Kuwait to find his forever home! He was very shy and timid at first, but is learning to trust humans and other dogs. He is starting to learn how to play, but what he knows for sure, he loves some belly rubs. This guy loves to be loved on! Meeko will be a great companion with some time and a lot of love!
* NEEDS A FOSTER *
Amirah is a female Saluki mix. Have you ever heard of a Saluki? It is a breed native to the Fertile Crescent area near Syria. Amirah traveled from Kuwait to find her forever home and we are so happy to be able to do that for her! This sweet girl is friendly, and very loyal and protective of her people. She is potty-trained and walks well on a leash. She is on the smaller side of a small-medium size dog.
Bessie is a female Basset Hound mix around two-years old. She weighs around 50 pounds. She is great with other dogs and cats! She is house-trained, but has nervous tinkles. She is timid and slow to warm up to new people. She was a mama dog so is looking for her chance to be the center of attention, babied and loved for ever more!
Leah is a shepherd mix, around two-years old. This perfect girl is potty-trained and crate-trained. She knows sit and does great on a leash! She is a very loyal girl who loves her person, and loves to cuddle! Leah doesn't mind cats, but doesn't care for puppies (go figure?). She is a medium-sized dog and very playful. Leah will do great in an active home!
Introducing our man of the hour - Skipper! He's an 11 year old papillon who will be undergoing surgery to remove a large mass on his side. He was an owner surrender. He would love to recover in his forever home! A little love heals a lot.
Oakley is a male lab mix. He such a good boy, you'll never stop saying it! He is house-trained and crate-trained. He loves to cuddle and is good with everybody. Oakley would do best in an active home, preferably with no small kids - as he is just so big. We love Oakley and know you will too!
*NEEDS A FOSTER*
Samson is a male, shepherd mix. He is the best mix of goofy, happy, and sweet! He is house-trained and potty-trained. He rides great in the car, and walks well on a leash. He loves to say hello to everyone! He has done well with dogs at the dog park, but he plays hard He's doing well with recall and sit, but still needs some work on jumping. Samson will be a great dog in active household!
Beau is a sweet boy just under a year old. He is potty trained with occasional excited accidents. He doesn't care for the crate much but he complies when asks and sleeps in the crate all night with no whimpering or need for potty breaks mid night! He is super affectionate and playful, he gets along great with dogs of all sizes. He walks great on a leash! He is a goofy boy who loves to play and chew on his toys.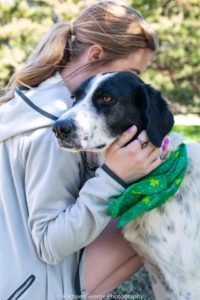 Maggie is a pointer mix around two years old. She has been a great momma, but it is time for her to be the center of attention! She is a sweet girl, who is house-trained. She is very sweet to everyone, and very low-key. She would do great in any kind of house-hold!
Adoption Information
To find out more about our adoption process, and what the adoption fee covers, visit our Application page!